75 Years of Airpower at Luke Air Force Base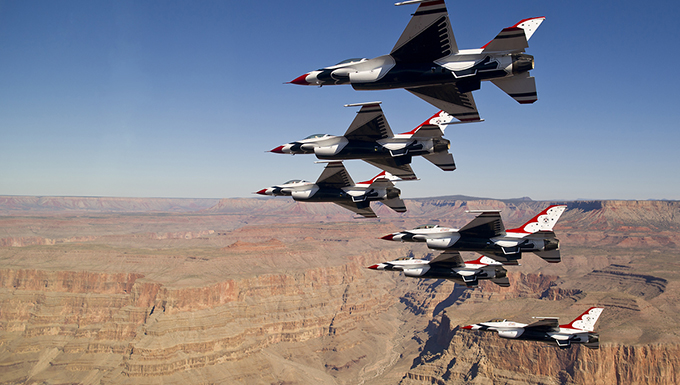 Personnel at Luke Air Force Base will celebrate its 75th anniversary by presenting the "75 Years of Airpower" airshow on Saturday, April 2nd and Sunday, April 3rd from 9:00 am to 5:00 pm at the Luke Air Force Base Airfield at 14185 Falcon St., Luke AFB. The biennial show attracted more than 150,000 spectators in 2014, and Lt. Col. Chris Bacon, airshow director, expects that number to increase significantly.
"I think the audience will definitely be thrilled by the shows we've organized for them, from the Battle of Pearl Harbor remake to the parachute jumpers, and the flybys. We really want to thank the community for all of their support and this is our way of trying to give back to them," Bacon said.
This fantastic Luke Air Force airshow event is free and perfect for all ages to enjoy and explore. This year's show is particularly special because it marks the homecoming for the Thunderbirds, who moved in 1956 to the Nellis Air Force Base in Nevada. Crowds can also expect aerial demonstrations from the F-35 Heritage flight team, U.S. Army Golden Knights, Tora Tora Tora, Acemaker T-33 and more. Static displays include the F-16 and C-17 military airframes as well as the B-17 and C-47 civilian airframes. The audience will also have the chance to interact with the airmen who carry out the Luke mission of "Training the World's Greatest F-35 and F-16 Pilots" during the show for pictures and to learn more about their lives.
Officials recommend bringing chairs and small umbrellas. These items will also be available for purchase during the event. For more details about the free Luke Air Force Base Airshow, please click here. For more fun things to do in Phoenix and local Arizona community events, please contact the Regal Team.
Melissa Dierks
The Regal Team of RE/MAX Professionals
7111 W Bell Road, Suite 101
Glendale, AZ 85308
(623) 229-0154
Follow us on Facebook!